The president of the United States came to Oklahoma yesterday, and this is what he encountered:
We should note that the number of people involved in this particular welcome barely broke into double digits. so don't let the picture deceive you. Here's a more telling angle: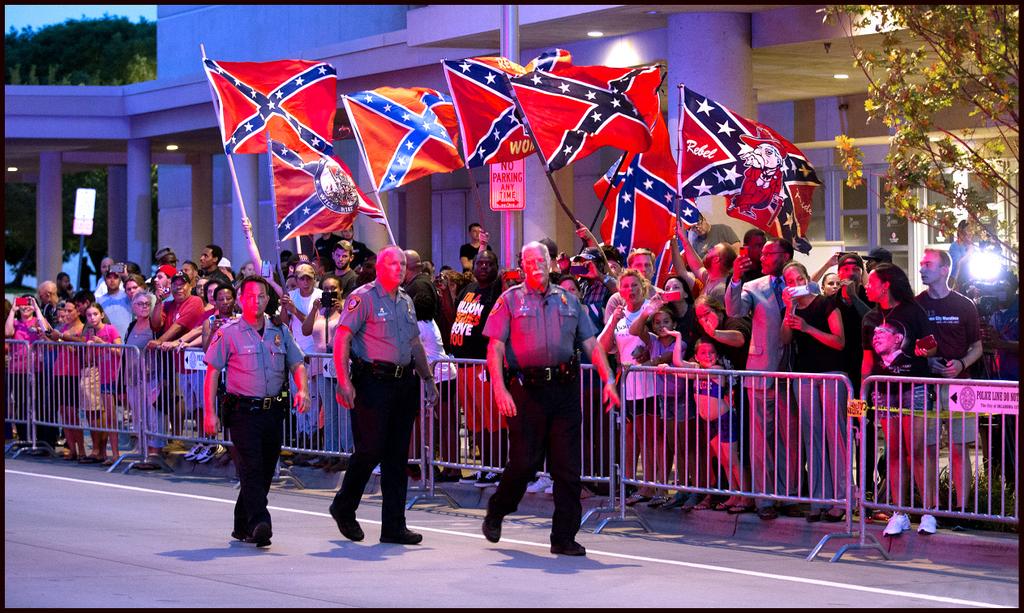 Let's take even a closer look … no Army of Northern Virginia battle flags are to be seen. In fact, we have four or five navy jacks … and three flags with messages on them that were not carried by Confederate soldiers.
What might they be?
Old Miss folks will be happy with what the rest of us think is a stylized version of Colonel Sanders in his alternate red outfit.
… wait … you want a closer look at that logo?
… well, talk about digging up bodies … and then there's one featuring a woman with a bikini top, which I'm sure was put out there to inspire the troops. Now, please tell me: are these people flying these flags to express their love of Confederate heritage and to honor the sacrifices of Confederate soldiers? Indeed, are these altered designs suitable as tributes to the Confederate fighting man? Then again, Ben "Cooter" Jones thinks so.